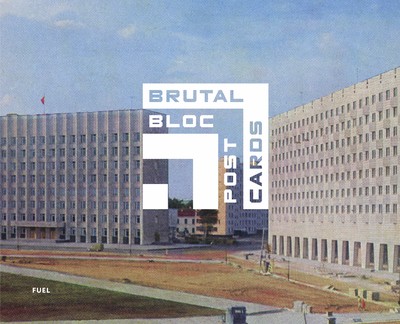 Zoom
Foreword by Jonathan Meades
165x205 mm hardback
192 pages
ISBN 978-0-9957455-2-0
Published in 2018
Brutal concrete hotels, futurist TV towers, heroic statues of workers—this collection of Soviet-era postcards documents the uncompromising landscape of the Eastern Bloc through its buildings and monuments. These are interspersed with quotes from prominent figures of the time, which both support and confound the ideologies presented in the images.
In contrast to the photographs of a ruined and abandoned Soviet empire we are accustomed to seeing today, the scenes depicted here publicize the bright future of communism: social housing blocks, palaces of culture and monuments to comradeship. Dating from the 1960s to the 1980s, they offer a nostalgic yet revealing insight into social and architectural values of the time, acting as a window through which we can examine cars, people and of course, buildings. These postcards are at once sinister, funny, poignant and surreal.
Reviews
A surreal insight into a time when the Soviet empire's characteristic architecture was a symbol of optimism for the years ahead.
---
Showcasing brutalist hotels, futurist TV towers, and bold concrete tower blocks, each image is a snapshot of the transformative decades between 1960 and 1990: from the endless optimism of Khrushchev's Thaw, to the closing years of the Cold War... it lets readers glimpse some of the former Eastern Bloc's iconic landmarks at a time when they were prized and cherished.
Calvert Journal