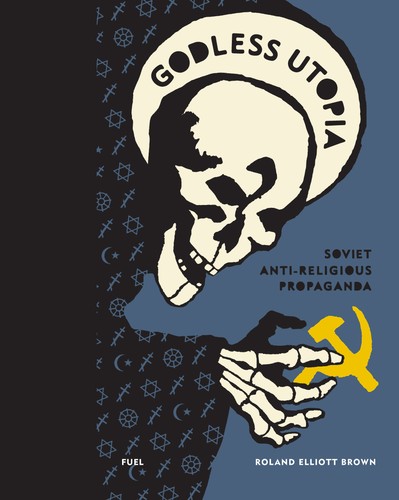 Zoom
Roland Elliott Brown
200x160 mm hardback
192 pages
Black painted book block
ISBN: 978-0-9957455-7-5
Published in 2019
Throughout the Soviet period the USSR waged war against religion of all denominations. This book is the first to tell this story through the vivid propaganda used against 'the opium of the people', from immediately after the 1917 revolution to the eventual fall of communism in 1991.
Drawing on the early Soviet atheist magazines Godless and Godless at the Machine, and post-war posters by Communist Party publishers, author Roland Elliott Brown presents an unsettling tour of atheist ideology in the USSR. Here are uncanny, imaginative, and downright blasphemous visions from the very guts of the Soviet atheist apparatus: sinister priests rub shoulders with cross-bearing colonial torturers, greedy mullahs, a cyclopean Jehovah, and a crypto-fascist Jesus; Russian cosmonauts mock God from space while vigilant border guards nab western Bible smugglers.
Foreword written by Martin Rowson, cartoonist and author.
Reviews
Godless Utopia: how the Soviet Union launched its war against religion
---
The Anti-Religious Campaign In Russia
---
Down with God! How the Soviet Union took on religion
---
The [Soviet] regime also waged war on minds; Godless Utopia captures the visual element of these propaganda campaigns strongly. God, Buddha, a cyclopean Jehovah and Allah were all fair game, as were corpulent priests, bearded Mullahs and ignorant peasants (although interestingly artists tended to avoid drawing Mohammed).