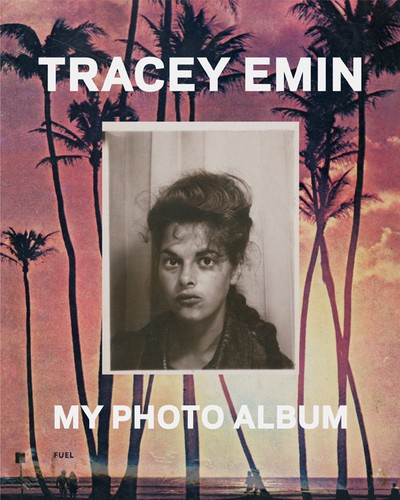 Zoom
180 x 220 mm hardback
156 pages
ISBN: 978-0-9568962-4-7
Published 2013
Tracey Emin: My Photo Album is a journey through the artist's life using photographs from her personal collection. Edited from the albums she has kept from an early age, this visual autobiography contains some amazing images: Tracey sharing a pram as a baby with her twin brother Paul, her bus-pass photo aged fourteen, a 'glamour' shoot as a semi-naked art student, her early successes as an artist, through to hanging out with superstars such as David Bowie and Ronnie Wood.
Perhaps more than any other artist working today, Tracey Emin's work is grounded in the personal experiences and events of her life. In these poignant photographs we can examine this crossover: the moments that have shaped her, and influenced her works: from her family life to the pivotal Young British Artist movement of the 1990s.
The design of the book resembles a photo album, with Tracey's hand-written captions and notes accompanying the photographs. With a text by Tracey about why so much of her work relates to memories of her early years.
Reviews
My Photo Album, which is largely about her childhood and teenage years, before she found success as a conceptual, confrontational artist. It's a wonderful, evocative edit from a personal stash of 10,000 photos.
Liz Jones, YOU, Mail on Sunday
---
We've been allowed into her Bed, and we've seen her tent naming Everyone I've Ever Slept With 1963-1995. Now, Emin's opening up her personal Photo Album. Here are some of the most candid shots – from naked photoshoots as a bored art student to drawing Kate Moss and being papped by David Bowie.
The Guardian in pictures
---
Tracey Emin's new book from Fuel Publishing, My Photo Album, is one of the best fashion books I've come across in a while. It's an exhibitionistic and self-indulgent folio from an artist who is both of those things—in life, as in art, which are one and the same for her—but who gets away with it because she is so interesting to look at.
Bullett
---
Personal experience has always been at the core of Emin's work, and this visual biography is both a catalogue of sources and an artwork in its own right.
Wallpaper*