Hugh Broughton Architects are one of the established talents of contemporary British architecture with a portfolio of high quality and elegant designs spanning the cultural, science and business sectors. More about us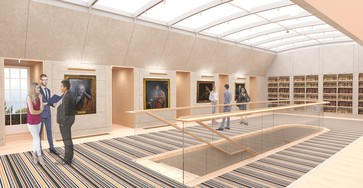 News 14 January 2019
Following a competitive tendering process we are pleased to announce that Sir Robert McAlpine Special Projects have been appointed as the main contractor for the multi-million pound redevelopment and refurbishment of the Treasury and Hall which we have designed for the Honourable Society of the Inner Temple.

Architecture New Zealand November 2018
An Antarctic collaboration
New Zealand's research station at Scott Base, established by Sir Edmund Hillary in 1957, is nearing the end of its functional life and requires a "modern, low-impact, efficient base" to support the future needs of the country's scientists and strategic interests in a better way. British firm Hugh Broughton Architects (HBA) and New Zealand practice Jasmax are currently working on proposals for its redevelopment. Justine Harvey interviewed HBA's Hugh Broughton and Stephen Middleton from Jasmax about designing in Antarctica and working in one of the most collaborative design teams imaginable.
Read more

Architects Choice November 2018
Hugh Broughton profile
Hugh Broughton is founder and director of Hugh Broughton Architects. Editor, Jade Tilley, talks to Hugh about modernist influences and the logistics of working in remote locations.
Read more