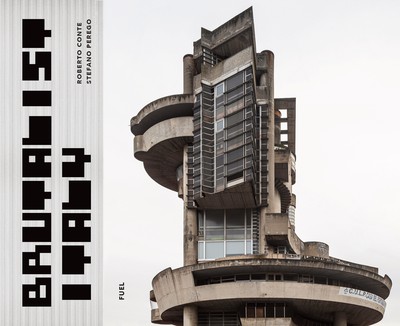 Zoom
Roberto Conte and Stefano Perego

160x200 mm hardback
200 pages
Text in English and Italian
ISBN: 978-1-7398878-3-4
Published in 2023
Concrete architecture from the Alps to the Mediterranean Sea
Architectural photographers Roberto Conte and Stefano Perego (authors of Soviet Asia) have spent the past five years travelling over 20,000 kilometres documenting the monumental concrete structures of their native country.

Brutalism – with its minimalist aesthetic, favouring raw materials and structural elements over decorative design – has a complex relationship with Italian history. After World War II, Italian architects were keen to distance themselves from fascism, without rejecting the architectural modernism that had flourished during that era. They developed a form of contemporary architecture that engaged with traditional methods and materials, drawing on uncontaminated historical references. This plurality of pasts assimilated into new constructions is a recurring feature of the country's Brutalist buildings, imparting to them a unique identity.

With an introduction by Adrian Forty, The Bartlett School of Architecture, University College London.
Reviews
Best of brutalist Italian architecture chronicled in new book