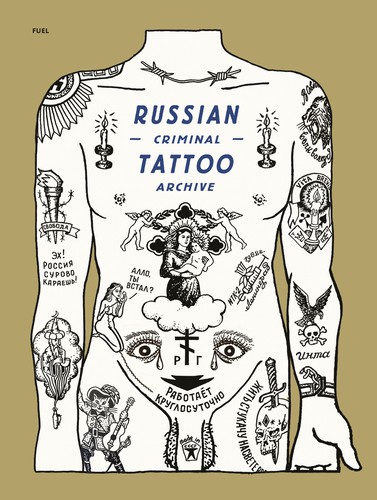 Zoom
265x200 mm hardback
256 pages
ISBN: 978-1-7398878-0-3
Published in 2023
Includes 4 exclusive Russian Criminal Tattoo Archive postcards.
10% goes to the British Red Cross Ukraine Crisis Appeal.
Previously unpublished in its original form, the material in this archive comprises ink on paper drawings by Danzig Baldaev, the photographic albums of Arkady Bronnikov and prisoner portraits by Sergei Vasiliev. The selection is contextualised with insights from Mark Vincent PhD (author and academic specialising in the Soviet Gulag) and Alison Nordström (photography scholar, writer and curator).
The meticulous depictions of tattoos by prison guard Danzig Baldaev are reproduced in facsimile, authenticated by his signature and stamp, alongside his handwritten notes on the reverse. Sergei Vasiliev's photographs portray inmates in startling intimacy, reproduced in colour for the first time. Arkady Bronnikov's collection of photographs are shown in the albums in which they were collected. Used exclusively to aid police in their investigations, they depict a motley line-up of assorted body parts.