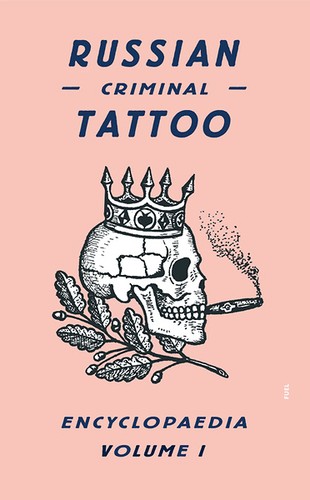 Zoom
205x125 mm hardback
400 pages
ISBN: 978-0-9558620-7-6
Published 2003
D&AD Silver Award 2005
10% goes to the British Red Cross Ukraine Crisis Appeal.
The photographs, drawings and texts published in this book are part of a collection of more than 3,000 tattoos accumulated over a lifetime by prison attendant Danzig Baldaev. Tattoos were his gateway into a secret world in which he acted as ethnographer, recording the rituals of a closed society.
The icons and tribal languages he documented are artful, distasteful, sexually explicit and sometimes just strange, reflecting as they do the lives and traditions of Russian convicts.

Skulls, swastikas, harems of naked women, a smiling Al Capone, medieval knights in armour, daggers sheathed in blood, benign images of Christ, sweet-faced mothers and their babies, armies of tanks, and a horned Lenin - these are the signs by which the people of this hidden world mark and identify themselves.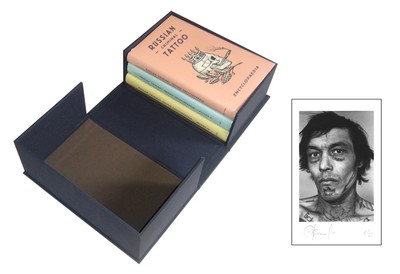 Boxed Set
An edition of 25. New shrinkwrapped first editions of Volume I, II and III with a Giclée print on fine art paper signed and numbered by Sergei Vasiliev housed in a navy clothbound Solander box with gold foil blocking.
Last few copies.
£850.00
Included in The Design Museum Collection, London.
Reviews
A rare and astonishing book, a glimpse of a deeply secretive world that has taken the author a lifetime to penetrate. It reveals more graphically than any Gulag history the unreformed horror of Russia: the lack of law, the rule of violence, the brutality, anti-Semitism and xenophobia. And yet it is filled with a poignance and a sense of personal tragedy that brought tears to my eyes.
The Telegraph
---


As the book convincingly reveals, this is a realm of unexpected graphic complexity. The tattoos are not mere decorations and there is nothing arbitrary about any of their elements. They are a form of speech, and every symbol has a meaning that can be understood.
Eye
---


A history of the republics to parallel the official version. On the skins of thieves and hooligans existed an iconography so rich and impenetrably elaborate that even the KGB supported Baldaev's work when so many other cultural historians had written themselves into a ticket to Siberia.
Icon
---


Every now and then a book comes out that illuminates a part of the world that was not only previously hidden but which could not even be imagined. Such a work is the Russian Criminal Tattoo Encyclopaedia. In these photos and drawings, like nothing you have ever seen before, are reflected the horrors of Russia written on the skins of criminals. As strange as the pictures are, they are not so foreign as to eliminate sadness and tragedy; anyone flipping through the images will be enlightened about a very distant world, but also will be distressed and mystified.
Amazon
---