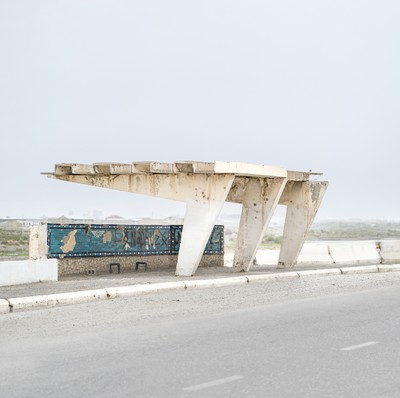 Zoom
Published in 2023
Includes 3 Soviet Bus Stops postcards
Low stock.
This original soundtrack LP is a limited edition of 500 copies available exclusively to Kickstarter backers and from this website. Gatefold cover with printed inner sleeve.
The 13-track album consists of remastered versions of Zodiac's Soviet-era works, alongside new compositions written especially for the documentary 'Soviet Bus Stops'. These multi-layered synth soundscapes reflect perfectly the crumbling beauty of the bus stops captured in the film.
Slipcased book set available here
–
The video clips below show:
A rare 1980s live recording of Zodiac performing 'Flight over Eldorado'.
The LP bonus track – Alyans performing 'Na Zare' (from a 1987 performance on the TV programme 'Rock and Around It').
The animated title sequence to the 'Soviet Bus Stops' documentary with the theme music to the film: 'Zodiac' by Zodiac.
Reviews
These Things Cannot Be Repeated
For two decades, Canadian photographer Christopher Herwig has been documenting the idiosyncratic bus stop architecture of the former Soviet Union, capturing examples of unique and geographically-specific creativity emerging from right beneath the gaze of authoritarian power. A new documentary charts his extraordinary mission – accompanied by an equally extraordinary soundtrack that could not have been produced under any other circumstances.
Loud And Quiet