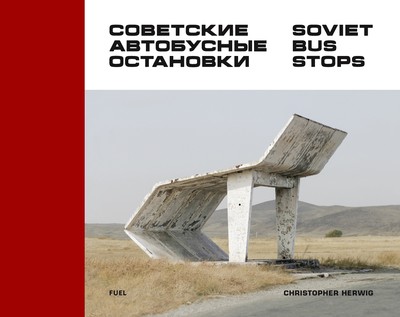 Zoom
160x200 mm hardback
192 pages, 159 photographs
ISBN 978-0-9931911-0-7
Published in 2015
Free postcards included
10% goes to the British Red Cross Ukraine Crisis Appeal.
Photographer Christopher Herwig has covered more than 30,000 km by car, bike, bus and taxi in 14 former Soviet countries discovering and documenting these unexpected treasures of modern art. From the shores of the Black Sea to the endless Kazakh steppe, these extraordinary bus stops show the range of public art from the Soviet era and give a rare glimpse into the creative minds of the time. The book represents the most comprehensive and diverse collection of Soviet bus stop design ever assembled from: Kazakhstan, Turkmenistan, Uzbekistan, Kyrgyzstan, Tajikistan, Ukraine, Moldova, Armenia, Abkhazia, Georgia, Lithuania, Latvia, Estonia and Belarus.

With a foreword by writer, critic and television presenter Jonathan Meades.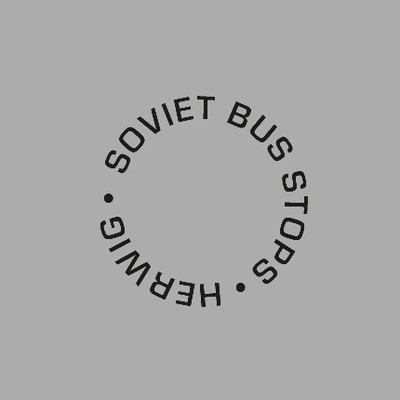 Print Sales
A3 size C Type prints in an edition of 100: £195
A2 size C Type prints in an edition of 75: £395

Shipping: £15 for tracked postage / £25 outside Europe

Prints come with an A4 certificate of authentication signed by Christopher Herwig. Prints have a blind embossed stamp in the bottom right corner: SOVIET BUS STOPS – HERWIG
To order email: fuel@fuel-design.com
Reviews
Christopher Herwig's obsessional project posthumously illumines the Soviet empire's taste for the utterly fantastical. It restricts itself to one building type, the bus stop or shelter, which tends in Western Europe to be meanly utilitarian. There is a certain amount of that here. But it is atypical. The norm is wild going on savage. Just as follies were, in the 18th century, often try-outs for new architectural styles, so may some of these wayward roadside punctuation marks have been structural or aesthetic experiments; they certainly don't lack grandeur and audacity.
The shelters provide an adhoc social service. Further they have granted aspirant sculptors, builders and architects opportunities to flex their creative muscles. Not least they have given a fine photographer that most precious and elusive of quarries – a truly distinctive subject, one which he celebrates with an almost tangible warmth and with a fondness for the anonymous men and women who created them.
Jonathan Meades

---
In Kyrgyzstan there are bus stops shaped like the region's high-crowned kalpak hats, as well as round tapering structures modelled on local yurts. Coloured concrete reliefs rule in the Ukraine, as do mosaics in Moldova, while in the forests of Estonia many bus stops are simple triangular pitched-roof structures, made of the timber that was to hand. Some of the most elaborate structures occur around Pitsunda on the Black Sea, where Khrushchev had his summer dacha. Along these coastal roads, voluptuous sea shells compete with the gaping mouths of gigantic fish, writhing concrete forms heavily encrusted with mosaic tiles, like Gaudí at the seaside.
Oliver Wainwright, The Guardian

---
This book is an absorbing collection of high-quality photographs, handsomely laid out and designed. Anyone who delves in will find favourites. Kazakh and Kyrgyz designs draw on traditions of horsemanship and falconry. Ukrainian shelters bear vivid, folksy mosaics. Armenian examples are hard and foreboding, while Baltic inventions will please the Ikea crowd. One Moldovan creation, formed from open-fronted dodecahedrons, delivers an SF vibe. Most alien of all are the radiant Gaudí knock-offs in the disputed region of Abkhazia, where Soviet elites once took their beach holidays (inside one of these someone has written, 'Bitches took away freedom').
Roland Elliott Brown, The Spectator
---
Over 150 photographs of architectural exuberance dotting the streets and highways of the vast country… Although many of these structures are falling into disrepair from age and neglect, that they still exist is a testament to how meaningful they must have been in an otherwise homogenous built environment. Herwig's tenacity and devotion to accomplishing a project of this scale is extraordinary.
John Foster, Design Observer