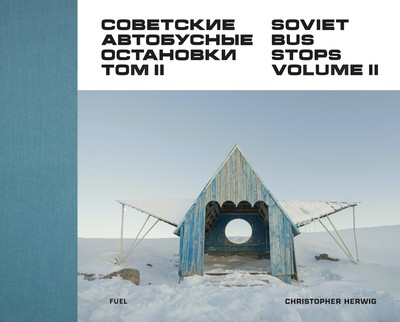 Zoom
Christopher Herwig

160x200 mm hardback
192 pages
ISBN: 978-0-9931911-8-3
Published in 2017
10% goes to the British Red Cross Ukraine Crisis Appeal.
After the popular and critical success of his first book, Christopher Herwig has returned to the former Soviet Union to hunt for more Soviet Bus Stops. In this second volume, as well as discovering unexpected examples in the remotest areas of Georgia and Ukraine, Herwig turns his camera to Russia itself. Following exhaustive research, he drove 15,000 km from coast to coast across the largest country in the world, in pursuit of new variations of this singular architectural form.
A foreword by renowned architecture and culture critic Owen Hatherley, reveals new information on the origins of the Soviet bus stop. Examining the government policy that allowed these 'small architectural forms' to flourish, he explains how they reflected Soviet values, and how ultimately they remained – despite their incredible individuality – far-flung outposts of Soviet ideology.
Buy Soviet Bus Stops slipcase set here
Reviews
While the Moscow metro is known around the world, photographer Christopher Herwig is the first to take an interest in the numerous and architecturally remarkable bus stops from the Soviet era. Following his successful book Soviet Bus Stops (2015), this new edition: Soviet Bus Stops Volume II, gathers even more fantastic examples of these ostensibly insignificant functional buildings.
The bus stop is interesting in the sense that it is, a type of minimalist architecture that combines a minimum of protection from the weather with a minimum of comfort in the form of a seat. This book shows us how improbably creative and varied these basic requirements can be - from simple pavilions with colourful mosaics, to large sculptures whose protective function seems to be almost a by-product.
Only with the publication of this typological guide, which the photographer has spent a great deal of time compiling, has this phenomenon become visible. Here, this 'banal' curiosity has great value.
Der Architekt