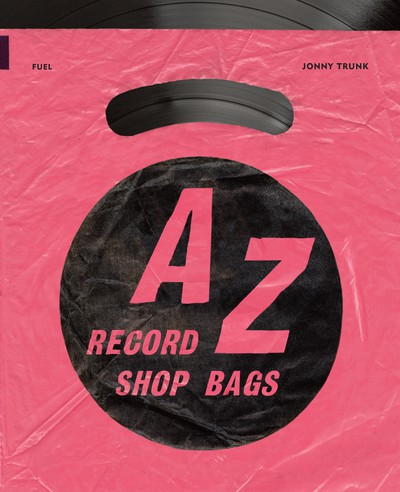 Zoom
180 x 220 mm softback
240 pages
ISBN: 978-1-9162184-8-2
Published in 2022
A visual celebration of the shopping bags produced by British record stores between the 1940s and the 1990s. Fully illustrated with over 500 examples of this previously unrecorded aspect of popular culture.
This unique book tells the graphic history of the British record shop through a huge and inspiring collection of original and exceptionally rare carrier bags. From large chains to hidden basements, with a cast of famous staff and eccentric owners, these paper and plastic bags bring the visceral history of music shopping to life.
With a foreword by Jon Savage.
Reviews
Selected for Rough Trade Books of the Year 2022
---
A–Z Record Shop Bags doesn't make any grand pseudo-theoretical claims about hauntology or lost culture but it doesn't need to; it constructs its world entirely through practice. Consequently, as well as being a lot of fun, it is a much more useful document of pop culture than other works which take themselves more seriously.
The Wire
---
Why British record store carrier bags are graphic design icons.
Creative Review
---
A brand new bag: vintage record shop carriers – in pictures
The Guardian
---
Financial Times – Best summer books of 2022: Architecture and design
Weirdly nostalgic, these seemingly throwaway things access Proustian memories (at least for certain generations) of Saturday mornings browsing in the record shop bins. Album covers have had their moment in the sun, this one – the often clunky, sometimes striking, very local and always memorable graphics of the disposable bags – is for the real fanatics.
---
For a 'brilliant ride' through British record shop history, look no further than Jonny Trunk's bag collection. Sharing his favourite bags from the collection and a few juicy anecdotes, Jonny discusses his new publication with Fuel.
It's Nice That
---
Jonny Trunk has cornered the niche on amassing meaningful ephemera. What Jonny gives us is a flavour of the 'unexpected history of our high street, but also of folk art, nostalgia, inspiring graphics and more'.
Greyscape