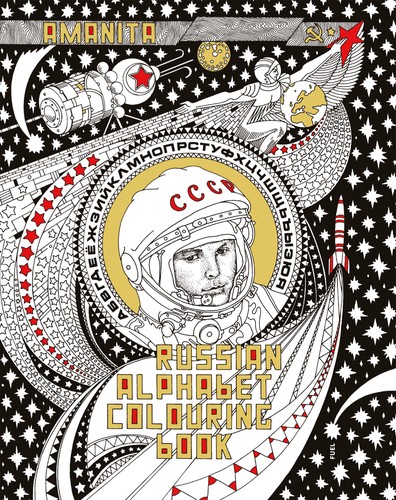 Zoom
Amanita
210x280mm paperback
112 pages
ISBN: 978-0-9931911-4-5
Published in 2016
Free postcards included
10% goes to the British Red Cross Ukraine Crisis Appeal.
The Russian Alphabet Colouring Book marks the first publication of the graphic works of Russian artist Amanita. Suitable for all ages, his fantastical images form a unique world – they are like modern variations of illustrated manuscripts, packed full with elements of Soviet and post-Soviet cultures. The book also works as an introduction to the Russian alphabet. Every drawing depicts a word beginning with each letter from the Cyrillic alphabet, also shown in English, giving a light-hearted guide as to how the letters look and sound.

The subjects of his illustrations are wide ranging – from political leaders: Lenin, Gorbachev; to inanimate objects: Tupolev aircraft, Sputnik; via Tsars, cosmonauts and Constructivism – these classic Soviet themes are interwoven from one page to the next, all rendered in an abundance of detail. His amazing and skillful images define a previously unimagined graphic landscape that takes the humble colouring book into a new dimension.