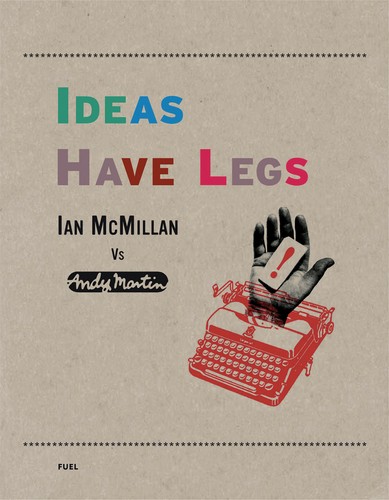 Zoom
Ian McMillan
Andy Martin
225 × 175 mm softback
112 pages
ISBN: 978-0-9550061-5-9
Published 2006
£10.00
This beautifully produced book is the result of two artists collaborating WORDS versus PICTURES. Ian McMillan, writer and broadcaster and Andy Martin, seasoned imagemaker, poetry and prose from one - visually interpreted by the other. The result is a lavish volume of ideas, oceans of notions. A mixture of the wry and the poignant rendered with the eye of a magpie.
This publication marks a new adventure in mixing poetry, prose and illustration. Images have been created using digital illustration, painting, photography and found imagery ingeniously edited into a consistent whole. They accompany pieces specially written for this publication as well as a couple of past favourites, fusing into a beautiful, colourful and thought-provoking volume.
With a foreword by BBC Radio's Mark Radcliffe.
Digital edition available from Visual Maniac.
Reviews
FUEL is responsible for some of the best-looking books around, combining a real understanding of what makes a lovely object with excellent content. This is a great example, poet Ian McMillan and illustrator Andy Martin have collaborated to create a lively interplay between the two forms.
Time Out
---
A whip-smart, genre-defying volume. A vigorous demonstration of the potency of combining words and images.
Adrian Shaughnessy, Varoom
---
This beautifully produced collection of McMillan's poems and Martin's imagery is a genuine creative union... an inspired partnership that has produced one of the most enjoyable books of the year.
Kerry William Purcell, Eye
---
There are hundreds of ways of looking at the world, but this is as good as any I can think of.
Mark Radcliffe
---