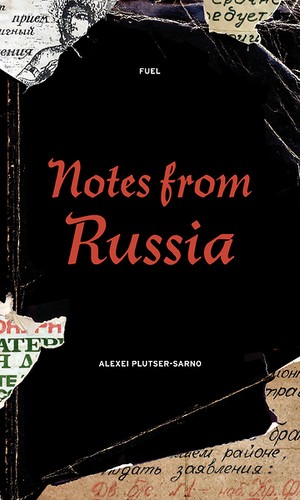 Zoom
Alexei Plutser-Sarno
205x125 mm hardback
192 pages
ISBN: 978-0-9550061-7-3
Published 2007
Sold out
This is a portrait of the Russian street told through its public notices. They are pasted on everything - still or moving - notes for missing persons, love letters, political statements, job offers, complaints, and warnings. Their authors are the country's underclass made visible.

The folklorist and lexicographer Alexei Plutser-Sarno, has collected these street notices for over twenty years. Published here for the first time, his collection tells an alternative story of recent Russian culture.
Designed as part of the acclaimed Russian series of books, and printed on an unusual mix of white and brown craft paper. A moving and vital contribution to the documentation of vernacular graphics.

Notes include:
"To everybody! If you want to have a good time, come to the New Year's Party 1999. There will be a buffet, dancing, and entertainment. The party begins at 3:00 p.m. local time on 26 December.
Bring your own CUP, FORK, GLASS, PLATE, and a READY MEAL.
Entrance by invitation."

Public Toilet notice: "Attention! Please flush the toilet regardless of goals set and results achieved. If the results have exceeded all expectations, please use the toilet brush. Janitor."
A Cafeteria sign amply illustrates the concept of customer service: "Announcement. Dear public, so that you don't complain, we would like to warn you beforehand that the meatballs are from the day before yesterday."
Other shop signs are less polite: "Other than what you see on display, we don't have fuck all!"
A sign in a block of flats: "Residents and guests, Welcome to our entrance hall! Remember: it is better to stay in one piece without a light bulb, than to be an invalid with one. Moreover, if you get caught stealing a light bulb, you'll be surprised to learn which parts of your body can be used as a socket."
Reviews
Published in a remarkably beautiful book, these myriad notices - high-handed and bureaucratic on the one hand, lowly and handwritten on the other - hold up an idiosyncratic, occasionally baffling mirror to Russia's past two decades.
The Observer
---


Offering a shadow history of a nation in the grip of social and economic turbulence. [These notes] are by turns funny, sad and revelatory: "Tough work, minimum wages, but boy is it fun!"
New Statesman
---


These snippets are a paper trail of post-Soviet life... like messages in a bottle to a motherland both unruly and unknown.
Art on Paper
---