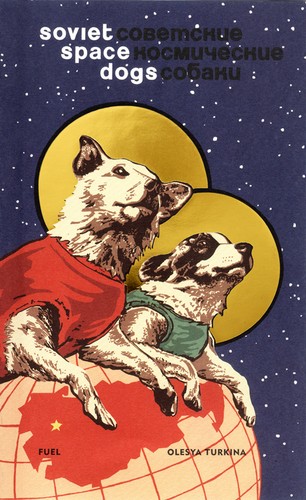 Zoom
205x125 mm hardback
240 pages
ISBN 978-0-9568962-8-5
Published in 2014
10% goes to the British Red Cross Ukraine Crisis Appeal.
This book is dedicated to the dogs who were crucial to the success of the early Soviet space programme. All of them formerly homeless on the Moscow streets, they fitted the necessary profile: small, robust, placid and able to withstand the punishing preparations for space flight. They were also photogenic.

On 3 November 1957, Laika was the first Earth-born creature into outer space, giving her instant global fame. Her death a few hours after launching was used to transform her into a symbol of patriotic sacrifice. Subsequent canine space travellers, Belka and Strelka, were the first to return alive, and were immediately featured in children's books and cartoons. Images of the Space Dogs proliferated, reproduced on everyday goods across the Soviet Union: cigarette packets, sweet-tins, badges, stamps and postcards. This book uses these ephemeral items to illustrate the poignant tale of how the unassuming Soviet Space Dogs became legends.
Text by Olesya Turkina, Senior Research Fellow at the State Russian Museum, St. Petersburg.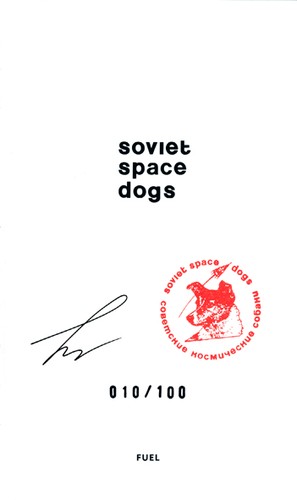 10% goes to the British Red Cross Ukraine Crisis Appeal.
Postcard Edition
The Postcard Edition comes with an authentic vintage postcard (from a choice of five) with a numbered book, signed by the author. Both book and card are stamped with the exclusive Soviet Space Dogs rubber stamp.
Please email us with your choice of postcard when ordering. Note: all cards are in good condition but show small signs of age.
Postcard No. 5 sold out.
Reviews
A streamlined space rocket streaks across the starry sky on a packet of Soviet cigarettes, trailing triumphant slogans, while another spaceship soars past planets on a commemorative plate. The pointed nosecones of satellites sparkle on lapel badges and postage stamps, while further galactic adventures are enacted across the lids of biscuit tins. Produced in the USSR in the 1950s, this collection of memorabilia looks like any other haul of space-race propaganda – until you notice that something's not quite right. Instead of the usual heroic comrades peering from the spaceships' windows, chiselled jaws framed inside the bubble masks of their spacesuits, there are the furry faces of beaming dogs. It could be merchandise from a parallel universe in which our world is ruled by canine overlords.
Oliver Wainwright, The Guardian

---
I couldn't resist this book ... You could even smoke a Laika cigarette as you read a Belka and Strelka storybook to your children.
Dana Jennings, The New York Times
---
The Stray Dogs That Became Soviet Space Heroes
WIRED

---
The book [is] an Aladdin's cave of eye-batting oddments and kitsch curiosities [that] enchants the reader with some 350 archival photos and images of arcane ephemera. In her Technicolor tour of space-age propaganda and pop culture, Turkina shows just how deeply Laika dug herself into the Soviet imagination.
Rory Tolan, The Los Angeles Review of Books
---
Without really trying, it's alternately enlightening, reaffirming, heartbreaking, and inspiring.
Amy Fernandez, The Canine Chronicle
---
Bitches in Space: Remembering Soviet Russia's Fleet of Female Dog Cosmonauts.
Sydney Parker, Broadly