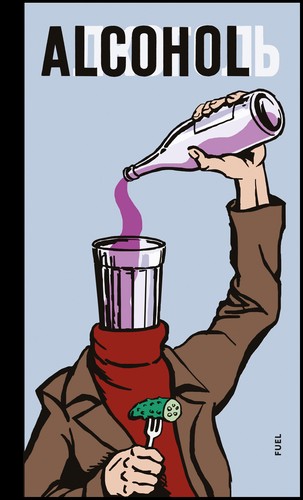 Zoom
ALCOHOL
Soviet Anti-Alcohol Posters
205x125 hardback
Lenticular cover
248 pages
ISBN: 978-0-9931911-5-2
Published in 2017
Alcohol presents an exhaustive collection of previously unpublished, Soviet Anti-Alcohol posters. The book includes examples from the 1960s through to the 1980s, but focuses on those produced during the Mikhail Gorbachev campaign initiated in 1985.

Displayed in public places these posters attempted to sober up the Soviet citizen by forcing them to confront the issues associated with excessive alcohol consumption. This allowed the poster designers to present the anti-alcohol message in the most graphic terms. They depicted drunks literally trapped inside the bottle or being strangled by 'the green snake'. Their protagonists always produce sub-standard work, are smashed when pregnant, neglect their families and present a constant danger to fellow citizens. These dangerous elements are paralytic freeloaders and shirkers who drive under the influence, they are violent, black-marketeers and desperate cologne drinkers…
An accompanying exhibition of Soviet anti-alcohol posters was held at Pushkin House, London WC1 from 23 March–13 April 2017. Photographed by Hugo Glendinning.
Reviews
When Mikhail Gorbachev assumed the role of general secretary in 1985, he instituted measures "to Overcome Drinking, Alcoholism and to Eradicate Bootlegged Alcohol." Booze sales slumped, drunks were tossed into shoddy rehab centers, bootlegging took off, and the desperate turned to dubious alcohol substitutes, like cologne and varnish. At least the Soviet anti-alcohol program leaves us with some lavishly illustrated, often very funny propaganda. [This book contains many] of the posters enlisted in the doomed effort to scale back the USSR's consumption. Look them over with a chilled glass of Stolichnaya Elit and some fine caviar.
---
Varnish, cologne and insecticide: how to drink like a Russian.
---
The 248-page book takes an alternative look at end of a political era. Each poster is translated with slogans such as 'Little by little you end up with a hooligan' accompanied with graphics that include red-nosed and bleary eyed cartoon characters and hard hitting constructivist-style compositions.
It's Nice That
---
FUEL's book captures the bold, graphic attempts made by designers to try and mitigate an unfolding crisis in Soviet society.
Creative Review
---
... the posters in Alcohol, along with its suitably dizzying lenticular cover design, expertly capture a nation's attempts to ameliorate a social crisis in esoteric, colourful, and often humorous ways.
Art Quarterly