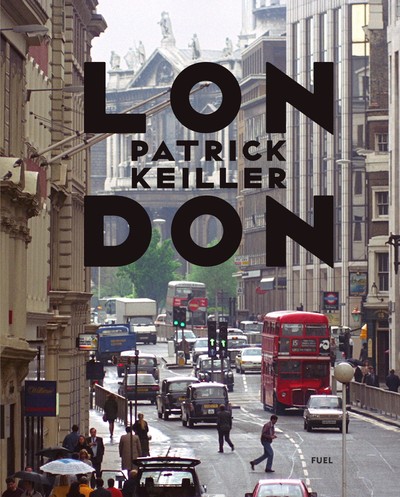 Zoom
Patrick Keiller
200x160 mm hardback
248 pages
ISBN: 978-1-9162184-3-7
Published in 2020
London is Patrick Keiller's highly imaginative psychogeographic journey through (and history of) London, as undertaken by an unnamed narrator and his companion, Robinson. The unseen pair complete a series of excursions around the city in an attempt to investigate what Robinson calls 'the problem of London', during which a palimpsest of the city is revealed.

London is a unique take on the essay-film format, with scathing reflections on the recent past, enlivened by offbeat humour and wide-ranging literary anecdotes. A variety of unexpected scenes recover the familiar London of the near past: Concorde almost touches suburban houses as it lands; Union Jacks fly from Wembley Stadium's Twin Towers and pigeons flock around tourists in Trafalgar Square. Such images, in combination with the script, allow us to see beyond the London typically presented.

It is both a fascinating reflection on the diverse histories of Britain's capital and an illuminating record of 1992, the year of John Major's re-election, IRA bombs and the first crack in the House of Windsor.

With an afterword and location notes from the director, the book's publication is the first time the film has been fully reproduced in print.
Reviews
The book design lives up to the ambitions of the original film. Histories and topographies I thought I knew revealed from another angle. It's good to have the script and the images, and the book-smell the film can't deliver.
Iain Sinclair
---
This book presents Patrick Keiller's 1994 seminal psychogeographic film essay as a series of stills alongside its entire dialogue, and is a total joy. Where more traditional script-led films might feel flat and compromised when reduced to the printed page, London is perfectly suited to it: the stills act as illustrations for a coherent monologue that is both banal and beautifully compelling.
Elephant Magazine, The Essential Art Books of 2020
---
Handsomely presented in a size and shape aptly reminiscent of 1990s computer reel containers, the book provides the full script of the scene along with a fascinating afterword on its inception and a full inventory of shot locations – including whether these places still exist. Designed as an accompaniment to the film, it stands just as well alone as a collage of our city 30 years ago.
The London Society