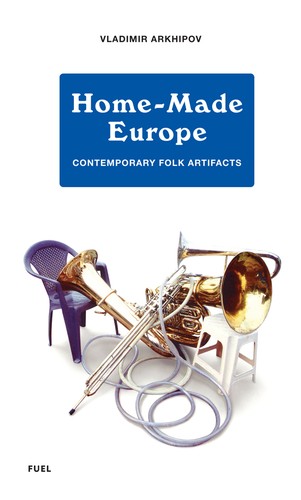 Zoom
205x125 mm hardback
256 pages
ISBN: 978-0-9568962-3-0
Published 2012
10% goes to the British Red Cross Ukraine Crisis Appeal.
Following the critically acclaimed first volume, Vladimir Arkhipov has travelled across Europe to further his collection for this essential second volume. The objects he has found are made by everyday people inspired by the desire to create something themselves rather than buying manufactured goods. ­­The book suggests that many of these utilitarian objects transcend the dictates of necessity, and that this passion for the home-made is not simply a consequence of hard times.
Featured among the 220 idiosyncratic objects are: a ski-bob made using an old bicycle frame from Austria; a titanium table tennis ball case from Russia; and a canoe outrigger constructed out of plumbing pipes from Wales. Other countries include Albania, Czech Republic, England, France, Germany, Ireland, Italy, Spain, Switzerland, and Ukraine. Each item is accompanied by a photograph of the creator, their story behind the object, its function, and the materials used to create it.
With a foreword by Jeremy Deller, Turner Prize winner 2004.
Reviews
The objects we buy are supposed to tell us something about who we are. But they don't tell us half as much as the objects we make, as even a quick flick through Home-Made Europe reveals. Here are everyday things people have fashioned with their own hands. Heaters, hammers, anchors, rat-traps, barbecues, showers and goalposts. They range from the pitiful – a child's grill for corn on the cob, rigged out of wires bent over tea lights – to the technically impressive – one man made a fridge. This is a catalogue of human resourcefulness.
But these folk artefacts are neither critique nor subculture, neither knowing nor community-minded – they're just a raw human impulse. Their makers do not consider themselves designers, nor do they aspire to be. And yet they create moments of rupture in a world that, as Arkhipov points out, is created by specialists.
The Guardian
---
Vladimir Arkhipov's new compendium is illustrated with the stuff of trash or treasure, depending on where you're standing.
The Russian artist and collector criss-crossed Europe, tracking down ordinary people who have addressed their basic household needs with extraordinary inventions, often involving parts of other, less essential household objects.
Chronicling his discoveries from Albania to Wales, Arkhipov reveals a nautilus machine constructed from a car's axle and a drawing stool; an heirloom ladle moulded from a melted-down German bomber, and a ski-bob made out of an old bicycle.
'Many of these objects look like art,' says Jeremy Deller, the Turner Prize-winning artist who wrote the foreword, 'but in actual fact art looks like, if not aspires to be like, these objects.'
Wallpaper*
---
Vladimir Arkhipov's follow up to Home-Made Contemporary Russian Folk Artifacts is a fascinating collection of improvisation, ingenuity and bricolage from across Europe.
Icon
---