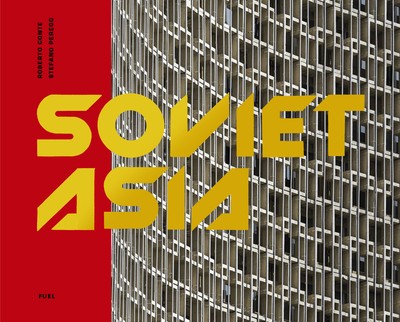 Zoom
Roberto Conte and Stefano Perego
160x200 mm hardback
192 pages
ISBN: 978-0-9957455-5-1
Published in 2019
10% goes to the British Red Cross Ukraine Crisis Appeal.
Soviet Asia explores the Soviet modernist architecture of Central Asia. Italian photographers Roberto Conte and Stefano Perego crossed the former Soviet republics of Kazakhstan, Kyrgyzstan, Uzbekistan and Tajikistan, documenting buildings constructed from the 1950s until the fall of the USSR.
The resulting images showcase the majestic, largely unknown, modernist buildings of the region. Museums, housing complexes, universities, circuses, ritual palaces – all were constructed using a composite aesthetic. Influenced by Persian and Islamic architecture, pattern and mosaic motifs articulated a connection with Central Asia. Grey concrete slabs were juxtaposed with colourful tiling and rectilinear shapes broken by ornate curved forms: the brutal designs normally associated with Soviet-era architecture were reconstructed with Eastern characteristics.
Reviews
At once threatening and majestic, these otherworldly edifices offer a different face of Soviet imperialism. Power-flexing forms are infused with Eastern characteristics.
---
In the latter half of the 20th century, striking examples of socialist architecture were erected across Central Asia, in Uzbekistan, Tajikistan, Kyrgyzstan and Kazakhstan. While this unique style of architecture, now described as Soviet modernism, aimed to promote integration, modernization and social control, in practice distinct trends emerged. Soviet Asia, a new book published by FUEL, documents some of this architectural variety with photographs of buildings constructed between 1960–80.
---
Soviet Modernism: Exploring Central Asia's ornate architectural style
---
When Soviets met Stans: the tower blocks of central Asia - in pictures