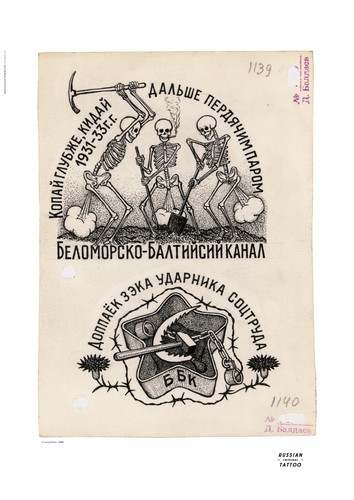 Zoom
Top: 'Dig deeper, throw further, farting steam. 1931-33'. Text below reads 'The White Sea – Baltic Canal'.
Morgue of the Obukhov Hospital, 47 Zagorodny Prospect, Leningrad. 1961. Left shoulder blade.
A humorous semi-professional 'grin' (oskal) showing three skeletons working on the White Sea – Baltic Canal. The canal was commissioned by Stalin to be constructed entirely from GULAG labour. Work lasted for twenty months between 1931 and 1933, costing the lives of over 200,000 political and criminal prisoners. The elderly man who had this tattoo was found frozen to death on the bank of the Vvedensky Canal near Vitebsk Station. The autopsy was carried out by students at the Military Medical Academy.

Bottom: 'The extra rations of a convict-hero of socialist labour'. The letters on the cup stand for 'White Sea – Baltic Canal'.
Hospital No. 32, 4 Lazaretny Lane, Leningrad. 1956.
An artistic tattoo from a former convict who worked on the White Sea – Baltic Canal – a cup in the form of a star, a hammer and sickle, shackles, carnations (the flower of the revolution) and barbed wire. The wearer was pulled out of the Fontanka River by firemen from the 5th unit of the Frunzensky Region Fire Brigade Department. He was unconscious and had a serious head wound.